#1
F:i like ur adlib in Like a Fire
ON:which? babybabybebbab(did quickly, got tongue twisted) this? (laughs kkk)
F:pls sing it live later ok?
#2
Fan: If it is not Onew, I will definitely not get into a relationship or get married
Onew(started laughing while signing):  What if you are not able to make it in your whole life?
Fan: I was worrying about this…
Onew: Fighting~
#3
F soon 2 wed told shinee giving invitation
ON:really? congrats
#4
F:i'm watching Royal Villa well
ON (hiding face w/ hands):i feel shy
F:ur acting is good
ON:not quite so
#5
F:what is fashion to onew?
ON:to make myself as i like? (n smiles)
#6
Fan: Can I become a female ghost and pay the rent to stay with you?
Onew: You have not reached the age of becoming a ghost (cr: DC)
#7
A fan wanted to tell Jinki that he's her mother's son-in-law. But she was too nervous and said that Jinki is her son-in-law. And Jinki's response was, "eh?" *nods his head* and called the fan mother-in-law.
#8
A fan asked jinki if he's allergic to cucumbers…. then he answered.. not allergy but just don't like it…
#9
A fan ask when will the egg on his dp hatched and he said it's not the one that is going to hatched
#10
A fan has prepared this drawing to make him laugh. But he didn't notice at first and signed on them.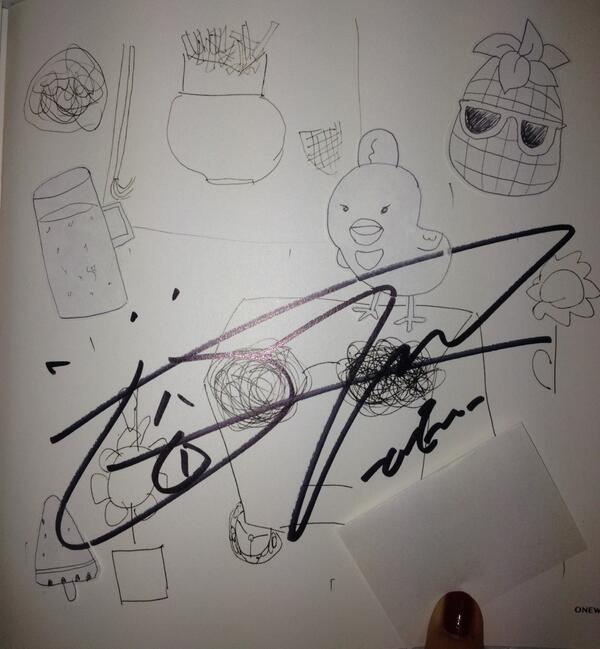 After a moment he realized that drawing and kept saying sorry. She said on her FA, it's her fault and she felt sorry for him. And she said he's really sweet.
#11
Told Onew I've been watching his sitcom. He smiled and asked if I could understand. I said yes and he grinned and looked deep into my eyes..
Onew: you seem to speak Korean really well :☆twinkle twinkle☆::
Fan: (cant breath)
#12
I didnt know what to say to onew so i was like "your hat is cool" and he was like "..huh?" "hat. your hat. it's cool." "o…thanks!" LOL i told onew to eat a lot and always be happy 🙂 it was rly awkward but he thanked me nicely
#13
I asked Onew, SHINee will come to Taiwan again on the 30th, is there anything that he's looking forward to? Onew replied; he wanted to go there quickly TTTTTT and he gave a warm smile TTTTT